Southern Homebase Sdn Bhd
G-46, Jalan Pinang 52,
Taman Daya,
81100 Johor Bahru,
Johor, Malaysia.
+6012-7010832 / +607-3518370

+607-3518370

RINNAI 2 BURNER GAS HOB / STOVE RB-72G
Quantity
Add Quotation
Rinnai 2 Burner Gas Hob RB-72G
FEATURE:
Flexible cut-out
Schoot Glass
Slimmer Control

Cast Iron pan support

Battery ignition

Safety device

Sealed Burner
Rubber Legs Attached
Rinnai's Most Powerful 5.5kW Flame from Japan Technology
Emits the most powerful 5.5kW flame via Hyper Burner to ensure maximum heating power for best flavours in cooking. Best suited for Asian cooking that has strong wok-style.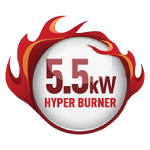 Cast Iron Pan Support
Cast Iron pan support is solid and never deforms in shape, it ensures stability of your wok and pan.

Elegant Knobs
The gas ignites automatically with one push and a turn, offering the convenience of using one hand to control the flame.

elicate Simmer Flame
Flexible Cut Out Size
Both the glass and stainless steel top plate fit the hob on any cut-out dimension as stated, without further modification to your counter-top.Good as replacement hob!


Schott Glass
Durable and heat resistant Schott Glass.


Delicate Simmer Flamer
Flame can be adjusted low enough to simmer soups and stews.

Safety Device
Cuts off the gas supply in the event of flame being extinguished


Sealed Burner
Prevents any overflowing liquid from spilling into the inner compartment of the gas hob.


Easy to Clean
Glass surface is easy to clean with a simple wipe to remove the spills.

Delicate Simmer Flame
DDelicate Simmer Flame
SPECIFICATION:
Gas Input
LPG: L/R: 5.5kW N/G: 5.3kW
Product Dimension: W 770mm D 460mm H 70mm
Cut Out Dimension: W 650- 730mm D 350 - 410mm
Southern Homebase Sdn Bhd - Bathroom & Kitchen Accessories Supplier in Johor Bahru (JB). Visit our showroom at Taman Daya.